Conference App Now Available for 2019 ICMA Annual Conference
The 2019 ICMA Annual Conference App gives attendees access to the conference schedule, speaker information, floor plans, exhibitor details, conference session evaluations, as well as tools to connect with other attendees.
The application is designed to work with your iPhone, iPad, Android, BlackBerry and other Mobile Web devices. To download to your device, follow these instructions:
1. Click either the Google Play (Android) or the iTunes App Store (Apple) below to download the app.
2. To find, use the keywords: "ICMA Meetings," "ICMA Mtgs," "ICMA," or "International City/ County Management Association."
3. Once installed, log in with the email address (UserName) and password you use to access icma.org. If you do not have an account with icma.org, create a new account to access the app.
4. Periodically click on the sync button to upload any changes that are made.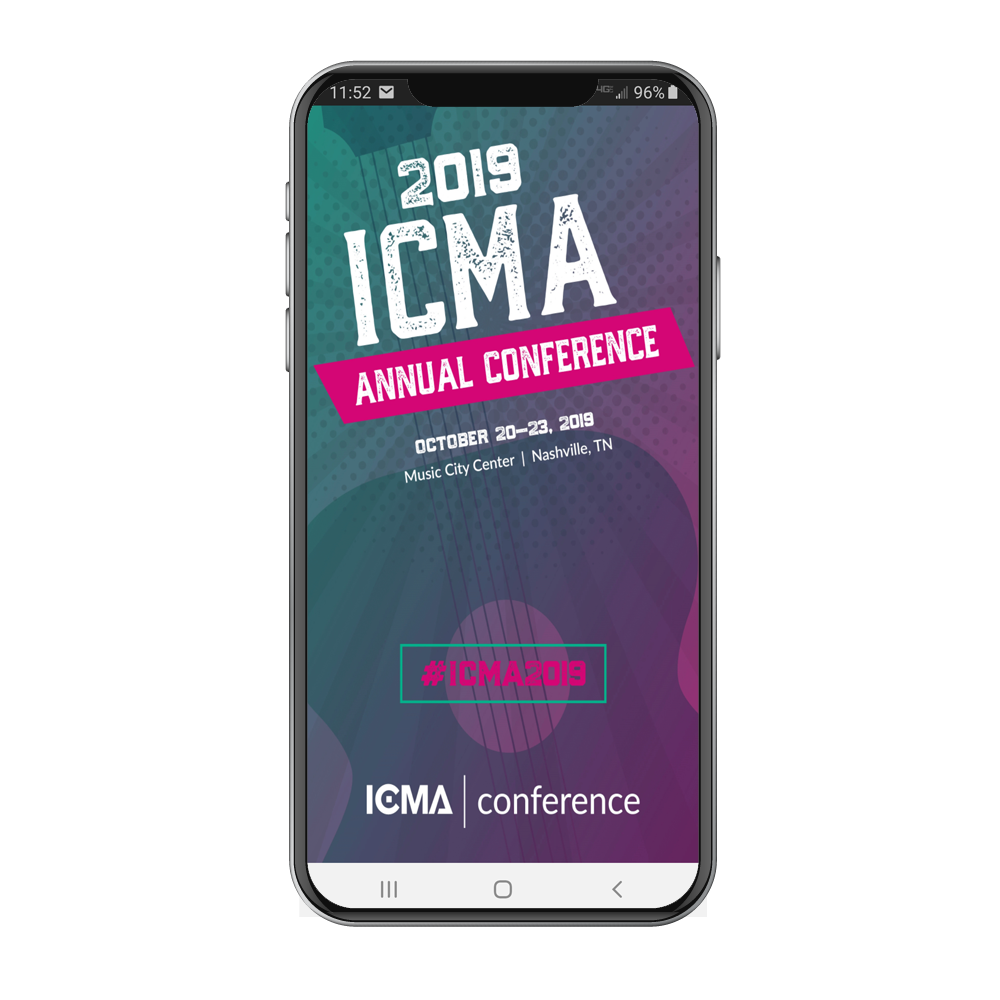 Use the Conference Mobile App to:
Build your personal daily schedule.
Plan your day by selecting sessions from the schedule, or events in the exhibit hall.
Receive reminders and updates.
Keep an eye on your home screen to see important messages, upcoming events, or notifications about sessions that are about to start.
Engage and network.
Read more about speakers and exhibitors, share information about the conference via Twitter, or Facebook, and more!
Find what you are looking for. 
Use the search, filters, and floor plans to find sessions, speakers, attendees and exhibitors more easily.
Personalize the event program.
Select sessions, attendees, and exhibitors to create your favorites in the MySchedule to create a quick reference to your schedule, contacts, booths, and Nashville activities.
Take notes. 
Make the most of your app and take notes about sessions, speakers, and exhibitors right in their profile. At the end of the event, you can easily export all notes and starred items via email.
Complete session evaluations. 
Use the session survey tool to share your thoughts about the session.
Conference app tips:
Explore everything the app has to offer – simply try out all the buttons to see what they do.
Use filters to only see items that are pertinent to you. Be sure to turn the filter back off in order to view the full conference schedule.
Take notes on any item and export all notes in an email after the event.
Sync the app periodically to receive the most up to date information, handouts and attendee list. 
Is Your Phone Compatible with the App?