Showcase Your Company's Products and Services
The 2022 ICMA Annual Conference is an opportunity to showcase products and services to 5,000 attendees
from the US and around the world.
The ICMA Exhibit Hall is the focal point for attendees, the place that they come to in search of new products and services for local government professionals. The Exhibit Hall also features exclusive exhibit hall only hours, the Sunday evening Grand Opening Reception, Monday and Tuesday lunch breaks, Monday and Tuesday AM/PM beverage breaks, interactive attendee activations, Solution Stage sessions, the ICMA Pavilion and more!
Please note that booth sales are only for those participating in the in-person conference in Columbus.
To learn more about exhibiting during the 2022 ICMA Annual Conference, contact:
Noreen Burke, ICMA Exhibit Management, Corcoran Expositions, Inc.
noreen@corcexpo.com | 312-265-9648 (t)
For general conference questions and sponsorship opportunities, please contact:
Megan Sherman, Senior Manager Conferences and Sponsorships, ICMA
msherman@icma.org | 202-962-3697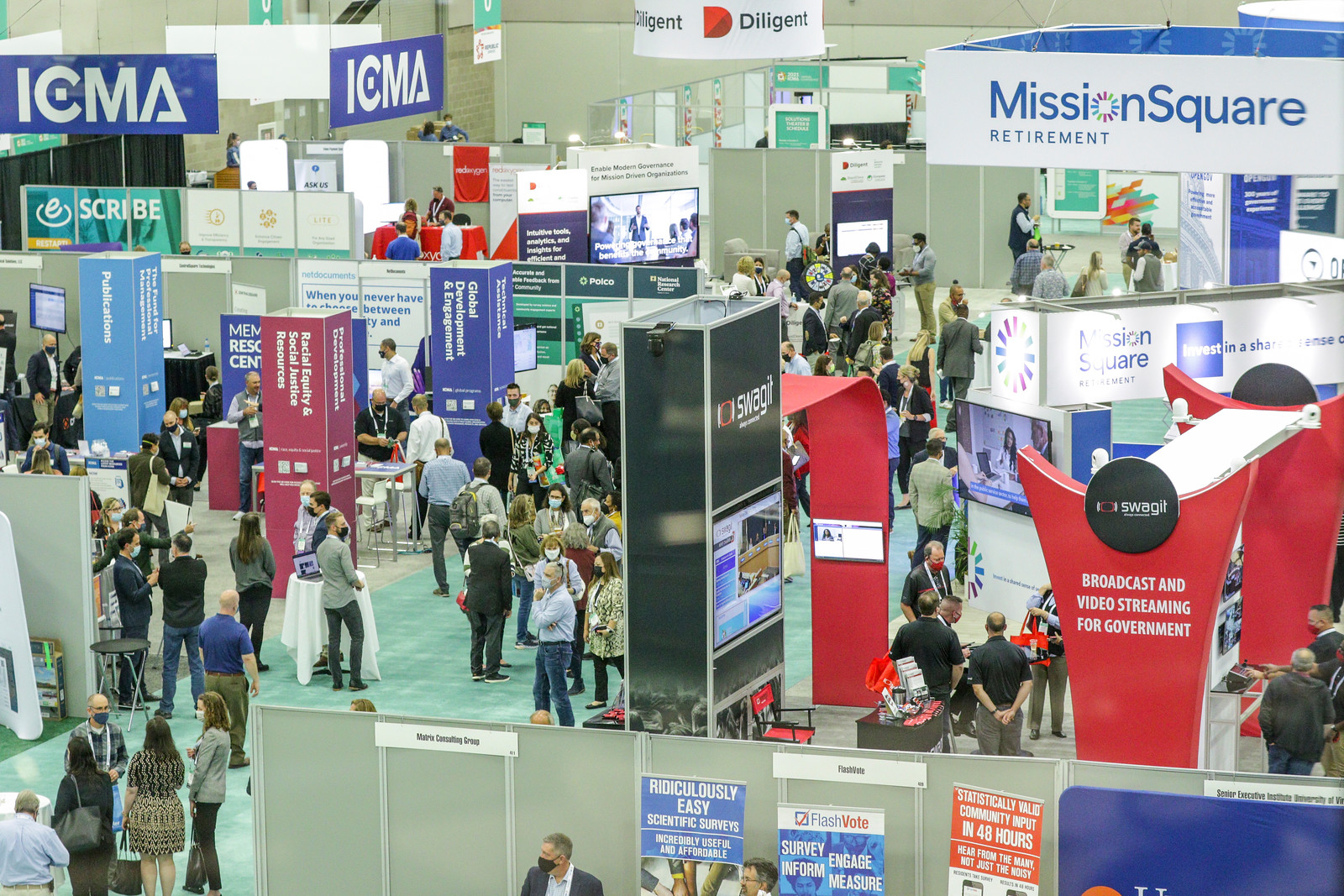 Exhibit Hall Hours
Sunday, September 18: 4:30 p.m. – 6:30 p.m.
Exhibit Hall Grand Opening Reception (Exclusive)
Monday, September 19: 11:30 a.m. – 4:30 p.m.
Exclusive Hours: 11:45 a.m. – 1:15 p.m.
Tuesday, September 20: 11:30 a.m. – 3:00 p.m.
Exclusive Hours: 11:45 a.m. – 1:15 p.m.
*Times are subject to change
Booth Rates
Booth Rates per 10'x10' Booth:
Commercial: $3000
Government/Nonprofit: $2500
Corners: $250
Booth Rates Include:
Two full conference badges per 10'x10' booth
Exhibit Hall Grand Opening Reception
Complimentary box lunch Monday and Tuesday in the Exhibit Hall
Complimentary AM/PM beverage breaks Monday and Tuesday in the Exhibit Hall
Company listing in the online floor plan, onsite program guide and mobile app
Identification sign for inline booths
Inline booths receive an 8' draped back wall and 3' draped side rails (Show colors TBD at a later date)
Access to pre- and post-show conference attendee list rental including emails (additional fee applies)
Let's Gather Safely
ICMA will continue to monitor health and safety guidelines for conference attendees and will share safety measures, if necessary, at a later date.